Your Trusted Window & Door Specialists
How Much Does a Composite Door Cost?
Price of Composite Doors
Wondering "How much does a composite door cost?"
Composite doors are a popular choice for modern homes due to their durability and versatility. These doors are crafted from a combination of materials, typically including a solid timber core, a uPVC or fibreglass skin, and insulating foam. 
This unique construction results in a door that combines the best features of each material to offer exceptional strength, thermal efficiency, and security.
The cost of a composite door is dependent on many factors ranging from material, style, size and custom-made options.
In this article, we discuss the cost of composite doors and explore the various aspects surrounding them, including the factors affecting the price and the different types. 
Whether you're a homeowner looking to enhance your property's security and aesthetics or a builder seeking to provide top-notch door solutions, this article will equip you with the knowledge you need.
Related: What is a Composite Door?
How Much is a Composite Door?
Composite door pricing can vary based on factors such as size, design, and additional features. 
The total cost for supplying and installing composite doors can range from £850 to £3,000. 
While the supply and installation cost of a composite front door may exceed that of uPVC doors, it generally falls below the price range of timber and aluminium doors.
Composite Door Pricing
Here's a rough estimate of what you can expect:
Basic Composite Door: Prices start at around £800 to £1,200.

Mid-Range Options: Mid-range composite doors with added features or custom designs can range from £1,200 to £2,500.

High-End Composite Doors: Premium composite doors with advanced security features and bespoke designs can cost upwards of £2,500.
Note that these are approximate prices, and it's advisable to request quotes from reputable door suppliers for accurate pricing tailored to your specific requirements.
Talk to the experts at Phair Windows & Glass for an accurate price based on your requirements and measurements.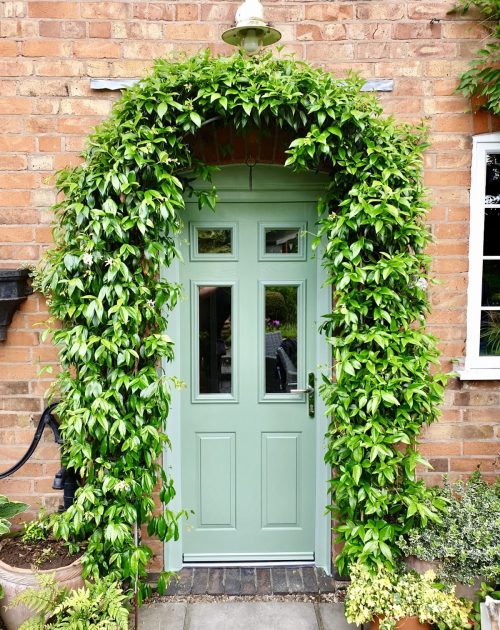 Are Composite Doors Expensive?
While the cost of composite doors may vary depending on your specific choice, it is generally true that they tend to be priced higher. 
However, rather than allowing this to discourage you from considering them as an investment, it's beneficial to look into the reasons behind their higher pricing, especially when comparing UPVC doors to composite doors, for example.
The increased cost of composite doors is justified by several compelling factors:
Advanced Technology: Composite doors stand out as one of the most technologically advanced door options currently available in the market. Their price reflects the incorporation of cutting-edge materials and manufacturing processes.

Exceptional Durability: Compared to other door types, composite doors are notably more robust. This durability arises from their unique construction, which skillfully amalgamates the best attributes of various materials to create an exceptionally strong and resilient door.

Effective Material Integration: Composite doors harness the strengths of different materials to their fullest potential. This efficient utilisation of materials contributes to their superior performance and, subsequently, their higher price point.
Factors Affecting Composite Door Costs
The cost of composite front doors can vary significantly due to several factors. These factors include:
Size
The size of the door plays a pivotal role in determining the cost. Larger doors necessitate more materials, consequently impacting the overall price. Additionally, larger doors may require increased labour for installation, further contributing to the total cost. 
Notably, composite doors often prove more cost-effective per unit of material used compared to solid timber doors due to their composite nature, making them a favourable option for price-conscious buyers.
Colour
The choice of colour can also influence the price of composite doors. Common colours like white or black typically come at a lower cost compared to speciality colours or intricate designs. 
When comparing prices, it's important to be aware of potential variations in color-related costs.
Design
The type of composite door selected and whether it incorporates additional decorative elements can significantly impact the price. 
Whether you opt for a contemporary or traditional design, the inclusion of features such as glass panels and side panels, as well as the type of glass or other materials used, can act as price determinants. 
Some composite doors may offer cost savings by omitting certain aesthetic elements. For instance, bifold door prices may be higher than standard doors due to considerations related to their size and design.
Additional Features, Security and Hardware
Composite front door pricing can also be influenced by the inclusion of additional features. Factors such as the choice of locks, letter plates, knockers, handles, alarm systems, electronic detection, and other security enhancements can contribute to the final cost. 
Since different buyers and homes have unique security needs, it's advisable to factor in these costs during the decision-making process.
Type of Glazing
The type of glazing used in the door can have a direct impact on both insulation and pricing. Different types of glazing offer varying levels of insulation, which are often quantified using U-values—a measure of the amount of energy required to heat a home in Watts. 
A-rated glazing, while providing superior energy efficiency, may come at a higher price point compared to other glazing options.
Manufacturer Variations
It's important to note that composite door prices can also fluctuate based on the manufacturer. 
Different manufacturers may offer varying pricing structures, materials, and features, making it essential for buyers to explore options from different manufacturers to find the best value for their specific requirements.
Types of Composite Doors
When choosing a composite door, you'll find a variety of options tailored to different preferences and needs. Here are some common types:
1. Solid Composite Doors
These doors feature a solid construction throughout and provide excellent insulation and security.
2. Glazed Composite Doors
Glazed composite doors come with glass panels, allowing natural light to enter your home while maintaining security.
3. Panel Designs
Composite doors are available in various panel designs, from simple and elegant to more intricate styles, enabling you to customize your door's appearance.
4. Colour Options
You can choose from a wide array of colours to match your home's exterior, and some manufacturers offer bespoke colour-matching services.
Which Type of Composite Door is Best?
Indeed, opting for composite doors in general is a wise choice compared to other alternatives. However, if you are seeking the optimal value, we highly recommend considering composite doors equipped with a solid timber core. 
It's this reinforced central component that imparts the door with its sturdiness and long-lasting durability.
Summary of How Much Does a Composite Door Cost
In summary, the cost of composite front doors is influenced by a multitude of factors, including size, colour, design, additional features, type of glazing, and variations among manufacturers. 
To make an informed decision and obtain the best value for your investment, it's advisable to consider these factors carefully when selecting a composite door for your home. And remember, always choose a reliable and trustworthy installer to ensure your composite door provides long-lasting value for your property.
For composite doors in Leicester, alternative doors or windows, contact our expert door fitters who are happy to help. We serve customers across the entire Leicestershire area.
Give us a call at 0116 456 0242 or submit an enquiry through our online form below, and we'll be in touch promptly.
FAQs About How Much Does a New Front Door Cost?
Your Journey With Phair Windows & Glass
We're a Fully Accredited and Locally Reputable Company
At Phair Windows & Glass, you've got complete peace of mind as we are fully accredited by all the relevant regulatory bodies. We are a FENSA registered company and are also proud to offer a 10 year insurance backed guarantee on every installation as standard.
Over our 25 years as a double glazing installer, we've built up quite the local reputation too. Take a look at some of our recent customer reviews from homeowners across the East Midlands.