Refurbish Your Leicestershire Conservatory and Create a Modern Living Space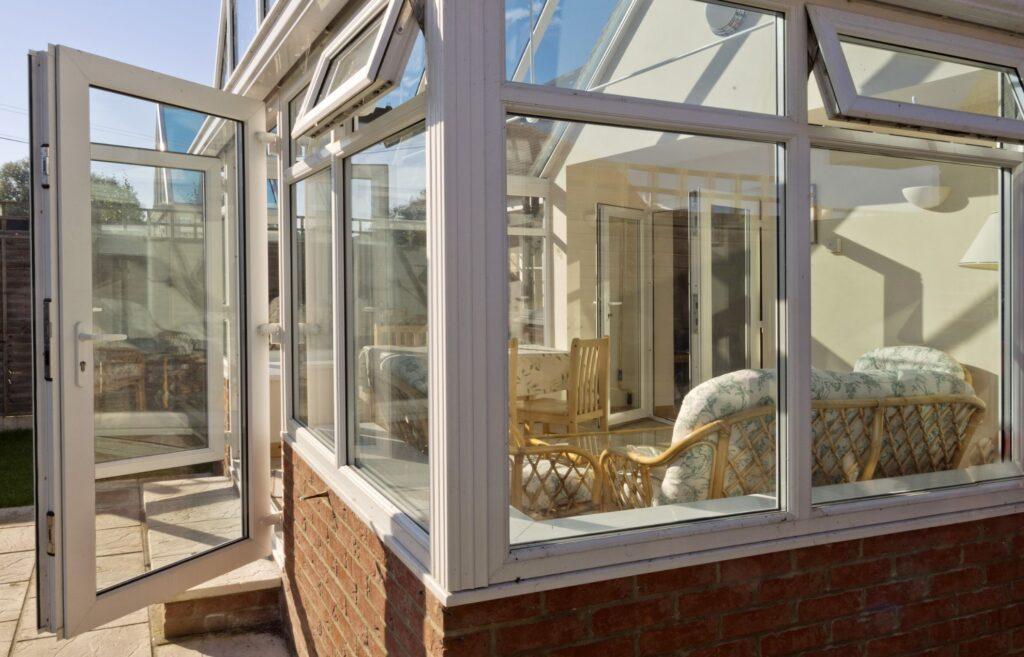 Wondering how to modernise a conservatory? Is your old conservatory with a plastic roof causing you frustration?
Many Leicester homeowners struggle to enjoy their conservatories due to issues like noisy rain on the roof and uncomfortable heat during summer. 
However, transforming your old conservatory or orangery into a modern, functional and beautiful home extension is easier than you think. At Phair Windows & Glass, we understand your concerns, and we're here to help.
In this article, we'll provide you with our top tips for modernising your conservatory, creating a space you can enjoy year-round. From addressing dated décor to improving entrance doors, we have some must-try ideas for a contemporary conservatory makeover.
How to Modernise a Conservatory
1. Embrace Natural Light
One of the key elements of a modern conservatory is abundant natural light. Consider installing large, energy-efficient windows that allow sunlight to flood the space.
This not only creates a warm and inviting atmosphere but also reduces the need for artificial lighting during the day. To control the amount of light, opt for quality blinds or shades that complement the overall decor.
2. Replacement Conservatory Doors
Adding bi-fold, patio or French doors to your conservatory not only enhances its aesthetics but also seamlessly connects the indoor and outdoor spaces.
These versatile doors can be fully opened to merge the two areas, creating an expanded entertainment space during gatherings or warm summer days. Choose high-quality materials that offer both security and energy efficiency.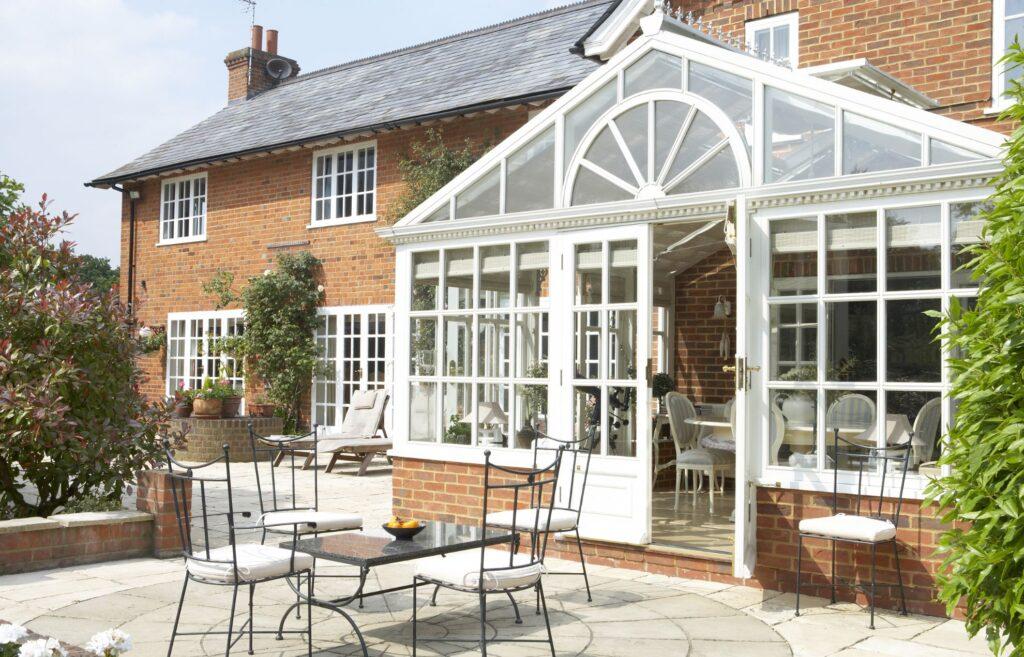 3. Add Greenery and Indoor Plants
Introduce greenery into your conservatory by incorporating indoor plants and a vertical garden. Plants not only improve air quality but also bring a sense of tranquillity to the space.
Select low-maintenance and humidity-loving plants that thrive in conservatory environments. Additionally, a vertical garden on one of the walls will add a touch of nature and create a stunning visual display.
4. Upgrade the Floor With Modern Flooring Options
Upgrading the flooring is a game-changer when it comes to modernising your conservatory. Consider options such as engineered wood, luxury vinyl tiles, or polished concrete for a contemporary and sleek look.
These materials are not only stylish but also durable and easy to clean, making them perfect for high-traffic areas.
5. Modern Furniture and Accessories
Selecting the right furniture and accessories is crucial in achieving a modern and stylish conservatory. Opt for sleek, minimalistic furniture that complements the overall design.
Add plush cushions and throws in bold, vibrant colours to create a cosy and inviting atmosphere. Incorporate chic accessories like statement lamps, decorative mirrors, and contemporary artwork to elevate the space further.
6. Tech Integration
Bring your conservatory into the future with smart technology integration. Install smart lighting, automated blinds, and a state-of-the-art sound system for seamless control and enhanced entertainment. Smart technology not only adds convenience but also enhances the overall modern ambience of the space.
7. Make a Relaxation Corner
Devote a corner of your conservatory to relaxation and rejuvenation. Install a comfortable reading nook with a plush armchair and a stylish bookshelf.
This will be a perfect spot to unwind with your favourite book, enjoying the natural light and surrounding greenery.
8. Create a Multi-Functional Space
To make the most of your conservatory, consider its multi-functional potential. Create zones for different activities such as dining, lounging, and entertainment.
Install versatile furniture that can be easily rearranged to adapt to different needs. By maximising the utility of your conservatory, you will create a space that seamlessly integrates with your lifestyle.
9. Consider Replacing Your Conservatory Roof With A Solid Roof
Transform your conservatory by replacing the old roof with a solid design is a great way to modernise it effectively. Our solid conservatory roofs convert cold spaces into year-round usable extensions, offering various exterior designs.
Another popular upgrade is swapping the outdated polycarbonate roof for a Smartglass glass roof. This option brings in natural light, provides superior insulation, and reduces heating costs. Upgrade your conservatory roof for enhanced appeal, comfort, and energy efficiency.
Find out how much a conservatory roof replacement may cost with our conservatory roof replacement calculator.
Related: How to Keep Your Conservatory Warm In Winter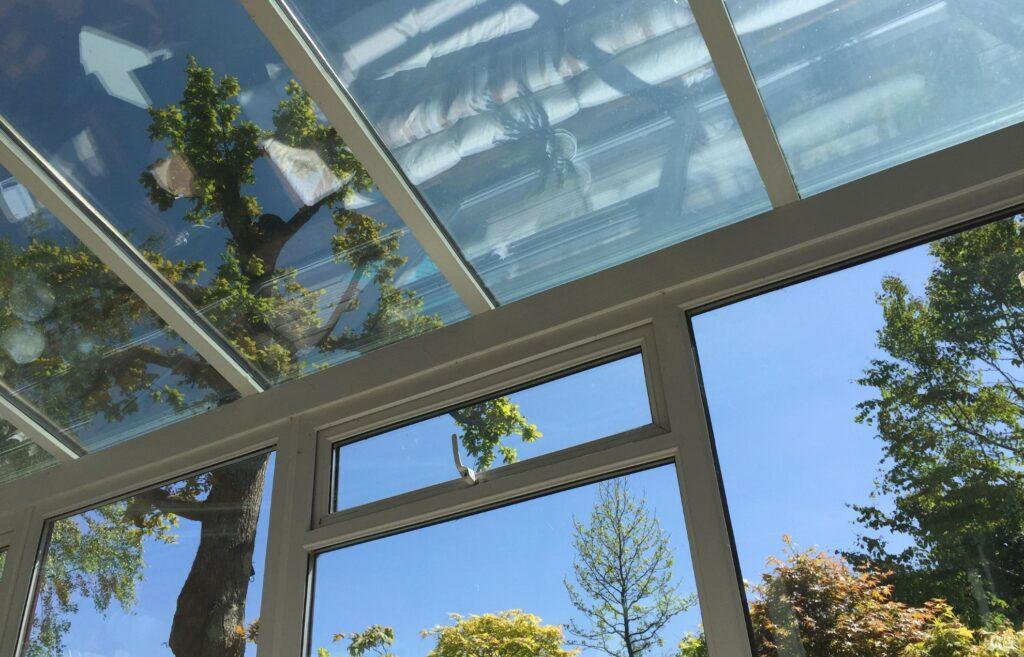 Summary of How to Modernise a Conservatory in Leicester
We hope you've found these conservatory renovation ideas useful. By implementing these nine tips, you can transform your conservatory into a modern and stylish room.
If you have an old conservatory that could do with an upgrade, contact Phair Windows & Glass to find out what we can offer. We're a double glazing installer supplying windows, doors, conservatories, conservatory roof replacement, porches, orangeries, and roofline across Leicestershire and the East Midlands. Get in touch with us today for a free no-obligation quote.
FAQs about How to Modernise a Conservatory
Can you update an existing conservatory?
Yes, you can update an existing conservatory to give it a fresh and modern look. Consider replacing the roof, upgrading the windows and doors, and enhancing the interior decor.
How can I make my conservatory look better?
To make your conservatory look better, consider adding stylish furniture, a roof replacement, new doors, incorporating indoor plants, installing modern flooring, and upgrading the lighting. Additionally, a fresh coat of paint can make a significant difference.
What can you do with a 20-year-old conservatory?
With a 20-year-old conservatory, you can update its appearance and functionality. Replace the roof, upgrade windows and doors, refresh the interior decor, and add modern amenities to transform it into a contemporary space.
How do you modernise a conservatory on a budget?
Modernise your conservatory on a budget by repainting the interior, adding affordable furniture and accessories, using indoor plants, and updating lighting fixtures. Consider DIY projects and shop for budget-friendly decor items.
How to Modernise a Conservatory & Orangery Refurbishment Ideas