Top Tips on How to Keep your Home Cool in a Heatwave UK
As much as we love the long British summer months, knowing how to keep your house cool in summer during a heatwave is not always easy.
Among the heat, many of us are now working from home full time and keeping them cool enough to work and sleep can be a challenge.
Keeping the cooler air in, and the hot, humid air out, whilst creating a breeze is the key.
While temperatures soar, here are our top tips and effective ways to keep your home cooler during the summer.
11 Tips on How to Keep House Cool in Summer
1. Close the Curtains
Your curtains can play a significant role in keeping your home cool during the summer months. When the sun is shining, close your curtains to block out the heat.
Consider investing in blackout curtains, which can help to keep your rooms even cooler by blocking out the sun's rays.
2. Close Doors & Windows
Close doors to rooms you aren't using to trap the cool air where you need it most. Seal gaps around any windows and doors, and use draught excluders to ensure the cool air can't escape.
3. Keep Your House Insulated
Proper insulation can help to keep your home cool in the summer by preventing hot air from entering and cool air from escaping. You can insulate your home by adding weatherstripping around your doors and windows, or by installing insulation in your attic.
4. Install Energy-Efficient Windows
Replacing your windows with energy-efficient ones is another effective way to keep your home cool during the summer. Energy-efficient windows are designed to keep the heat out and the cool air in, which can help to reduce your energy bills and keep your home comfortable.
Related: 10 Double Glazed Windows Benefits
5. Create Some Shade
Stopping heat from getting into your house in the first place means spending less on cooling. Shade windows and walls using external coverings, like blinds, awnings or large potted plants.
Plant deciduous trees that cast shade over your home in summer, but still let the sun shine through in winter. If you can, invest in window tinting and top up your ceiling insulation – it'll help keep the warmth in the winter, too.
6. Reflect The Heat
During a heatwave, or throughout the summer months, you may see cars or windows with heat reflecting materials fitted to the windows.
Look for some window heat reflecting foil online or in a local shop to reflect some of the heat on your windows.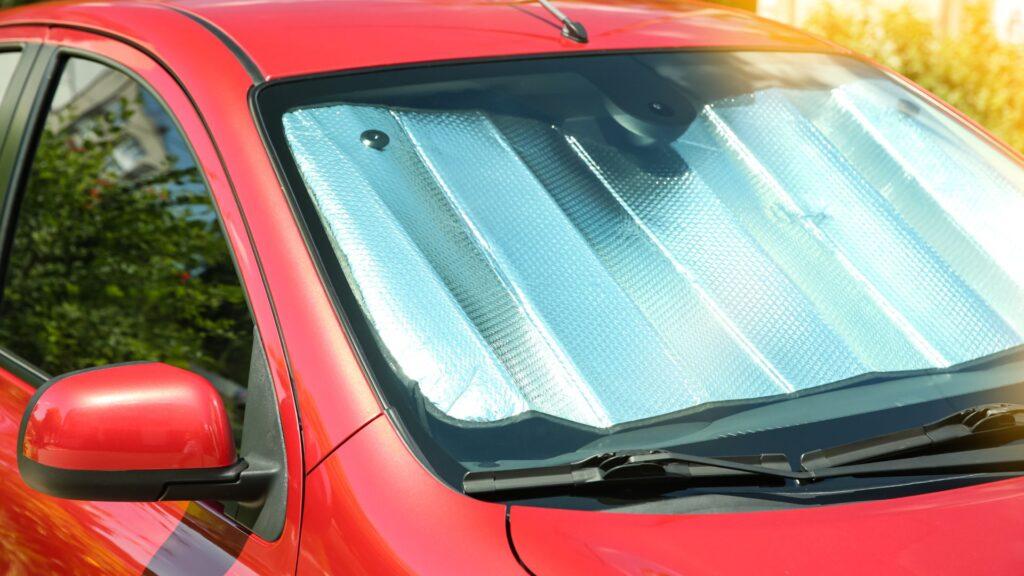 7. Turn Off The Lights
Turn off lights and electronics when they're not in use. They can generate heat and increase the temperature in your home.
8. Create An Ice Cold Fan
No air-con? A cleverly-positioned bowl of ice is all you need to turn a fan into a cold mist machine. Place a shallow bowl or pan of ice in front of a fan for an icy-cool breeze that won't break the bank.
9. Open Windows at Night
Open windows and doors in the evening and overnight to let in cool air. Take advantage of the natural breeze by placing a fan near an open window or door when the air is cooler.
10. Limit The Use of Electricals & Appliances
Like many homeowners, you may have a habit of leaving electricals and appliances, such as a TV, on standby when they're not in use. Even on standby, these electricals can be generating heat.
Also, use appliances such as ovens and dishwashers in the evening when it's cooler outside.
11. Bring Out The Summer Bedding
Buy natural, breathable fabrics when choosing duvets, pillows and mattresses for the summer.
Opt for cotton and linen for your pillowcases, bedsheets and duvet covers. Cotton and linen are breathable fabrics and much better at keeping you cool than fabrics such as polyester. Other man-made fabrics will only make you sweat more.
During those extreme, hot days, pop your bedding in the freezer for 15 minutes before you go to bed. Your sheets will feel cool and help you sleep.
Use lighter-coloured furnishings and bedding, such as white sheets, which can reflect heat instead of absorbing it.
Summary of How to Keep House Cool in Summer
Keeping your home cool and comfortable during the summer months in the UK doesn't need to be hard. Even without the need for air conditioning.
By following our simple steps, such as closing the curtains, reflecting the heat, and installing energy-efficient windows, you can be cool and comfortable during a heatwave.
If you're looking to replace your windows with new double glazed energy efficient windows, contact a double glazing company such as Phair Windows & Glass: https://phairwindowsandglass.co.uk/ 
We are available on 0116 456 0242, or you can request a quote here.
How to Keep House Cool in Summer Without Air-Conditioning